How to operate a canal lock ?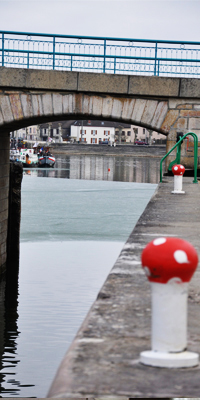 A lock is a device for raising and lowering boats between stretches of water of different levels on river and canal waterways.
Locks have changed over time, and today there are three main types : automatic lockes, manned locks (operated by the lock-keeper) and manual locks (operated by the boater).
Passing through the locks is simple and enjoyable if you follow some basic tips :
Safety
:
Inexperienced boaters and children should always wear personal flotation devices (lifejackets) when going through locks.
Fenders
:
Make sure your boat is protected by plenty of fenders : the rush of water into a lock can knock you against the lock wall.
Ascending
:
Stay as close to the lower gates as possible to minimize the effect of the water coming in as the lock fills. Take up your mooring lines as the boat rises.
Descending
:
Never make fast your mooring lines : you must let them out as the boat goes down. They should be looped round a bollard on the lock wall and back to a crew member on the boat.
Mooring
:
Do not moor to another boat and do not use your engine.
Leaving
:
Wait until the lock gates are fully open before you move forward
Looking to buy a houseboat or just have questions?
Our UK team is available from telephone +33 3 80 39 23 00 or by email at h2o@h2ofrance.com. For more information, visit the website
www.h2ofrance.com